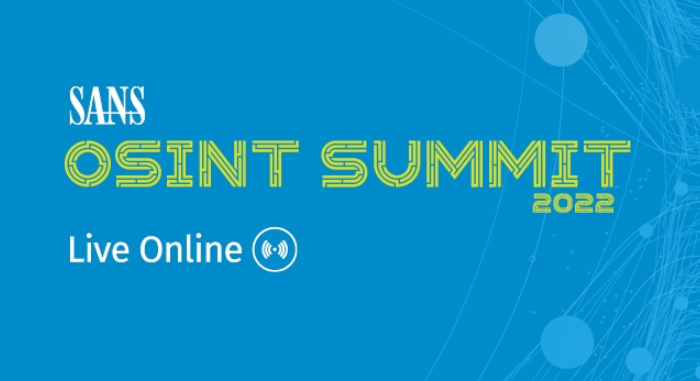 SANS OSINT Summit 2022 is a virtual event  happening on April 7th.
It is open to the community, so don't miss out. You can register now for FREE!
Connect the dots with OSINT
The Open-Source Intelligence (OSINT) Summit will bring together OSINT practitioners, investigators, and enthusiasts alike to share their OSINT techniques and tools.
As an attendee, you will learn current, real-world methods from others in the OSINT community who collect information across the Internet, analyze the results, and utilize key data to reach their objectives.
The OSINT Summit will explore the following topics:
Capturing, recording, and harvesting open source information
Exploring the varied applications of OSINT in industry/the community
Accessing and collecting data from social media
Using tools and automated processes to accelerate OSINT collection or filtering of data
Ethical issues concerning OSINT collection and analysis
OSINT case studies of investigations you performed (sanitized, of course)
OSINT and its relationship with other forms of research, investigations and intelligence work
A One-of-a-Kind Virtual Networking Experience
In addition to the whole day of focused Summit content, this Live Online event offers exclusive access to connect with others in the OSINT community, leading experts and investigators, and some of the SANS instructors and authors you have taken courses from.
In addition to in-depth presentations and panels, you will also be invited to join the conference chat workspace which is a place to engage with attendees and speakers, to ask your questions, and to share your knowledge.
Summit Agenda
April 7, 2022
Welcome & Opening Remarks
Lessons Learned from Ten Years of OSINT Automation
OSINT & AI: The Good, The Bad, and The Fake
Protecting High-Value Individuals: An OSINT Workflow
How to Investigate Phishing Campaigns
Ad Analytics & Marketing SEO Tools as a Resource for OSINT Investigations
Finding Fraudsters Who Hide Behind Cloudflare
OSINT Around the Globe: An In-Depth Overview of Resources, Tactics, and Tools for Gathering Intelligence Outside the United States
Glass Bottom OSINT
Beyond Sock Puppets: Practical Strategies for OPSEC in OSINT Investigations
Afternoon Welcome
Keynote | Dark Web: The Other Side
Blockchain Investigations 101: An Intro to Ethereum
What Value Does OSINT Bring to the Web 3.0 Space?
Once Upon a Crime: A Novel Approach to OSINT Through Storytelling
Rae Baker,
Senior Open Source Intelligence Analyst, Consulting
Open House: Real Property OSINT and Researching Public Records
I Know You: Contact Exploitation in SOCMINT Investigations
Wrap-Up
Summit Links
Follow the links below for more information or to register for the OSINT Summit.