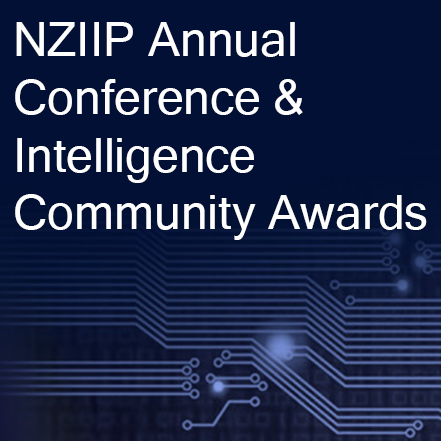 NZIIP – Conference 2021
NZIIP Annual Conference &
Intelligence Community Awards
Participation, Partnerships, and Protection in the Intelligence Profession
Annual Conference
14 October 2021 – Tiakiwai Conference Centre at the National Library, Wellington
8.30am registrations open, 9.00am start
The NZIIP year started out with a strategic planning day resulting in a new vision of creating a connected and skilled intelligence community to enable excellence for people in the intelligence profession. From this, our new mission has become to grow and connect the intelligence professional and profession through participation, partnerships, and protection.
This year's conference focuses on this theme throughout, with a more interactive event involving panel discussions and working groups.
Setting the scene, it will start with discussion of the national security system and intelligence sector to establish where we currently are. We will be hearing from Brook Barrington, Chief Executive of the Department of the Prime Minister and Cabinet, followed by the NZIIP committee on the results of the NZIIP Diversity and Inclusion Survey, examining practitioner views of the sector on inclusion and belonging.
Next we'll be delving into what this means for the profession practically through a panel and working groups. Among others, we will hear from the Māori Biosecurity Intelligence Network, to learn about an example of an organic approach to kaitiakitanga and intelligence.
This will be followed by working groups, sponsored by Babel Street and facilitated by Mubin Shaikh in Toronto and Andy Roberts in Washington DC. We will hear their views respectively on the intelligence professional's role in partnering with vulnerable communities, and how to achieve increased participation through open-source intelligence activities among our communities:
Andy Roberts, previously head of DIA Open Source Intelligence (OSINT) (US Defense Intelligence Agency), now a fellow at the Rand Institute, will lead a facilitated discussion on OSINT career paths and future skills, focusing on greater collector representation across intelligence professional development.
Mubin Shaikh, Professor of Public Policy at Seneca College Toronto, will lead a facilitated discussion on analysing and partnering with vulnerable communities. Mubin was previously a Jihadist with the Taliban, who self-de-radicalised and has since led de-radicalisation programmes and partnerships with at-risk communities. Mubin's facilitated discussion was made possible by Babel Street.
We will then move to a panel session on developing cultural competencies in intelligence workplaces, sponsored by VA Worldwide.
We'll then finish with a strategic commentary from Lil Anderson, Chief Executive of Te Arawhiti (the Government's Office for Māori-Crown relations), on the future of diversity and inclusion, and considering how participation, partnership, and protection can be woven appropriately through organisational and cross-sector intelligence efforts.