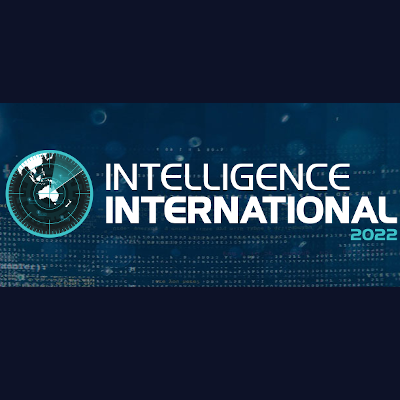 Intelligence International 2022
Intelligence International 2022
Collaboration in a Complex and Uncertain World
Updated: Oct 20 2022
Event Program
View the program here: https://www.intelligenceinternational.asn.au/program 
Intelligence International 2022 – Key Information
The Intelligence International 2022 Conference is planned for intelligence leaders, managers, professionals and academe.
This year's sub themes have been identified as: Ethics, Partnership and Capability.
To be held in Melbourne, Australia and scheduled over three days, from 23 – 26 October 2022,
Intelligence International 2022 will include keynote presentations and combine plenary, breakout, and interactive panel sessions for all delegates (see program for details). There will also be an active social program for delegates attending in person.
It is estimated the conference will attract 1000+ attendees.
Come Visit Us!
The Sintelix team will be there and we warmy invite you to come by and say hello! We're also showcasing the latest advancements in our ever-expanding suite of text intelligence capabilities!
About Intelligence International 2022
Intelligence is a global profession practiced in almost every area of endeavour from the traditional agencies to business, industry, financial institutions; from large organisations with global operations to small companies and businesses operating almost at a neighbourhood level. Intelligence has grown in terms of practice areas and is ever evolving insofar as methods, tactics and approaches, to meet emerging demands in application, technology and style. It is timely therefore to bring this conference together and consider how intelligence professionals can improve collaboration, integration and capability.
The conference elements will include sessions, networking, and exhibition – run as hybrid events, integrating interactive technologies to link in-person meetings with online live streaming components. Delegates, speakers and exhibitors can either attend, meet and present in person in Melbourne, or from their own home or office location to comply with isolation orders or border closures and to fit around altered business operations.
Program Summary
Note: Program is subject to change – please refer to the official program here for the most up to date information
Date
Time AEDT
Session
23/10/2022
14.30 – 19.00
23/10/2022
15.00 – 17.00

Tradecraft Skills Session
Senior Sergeant Glenn Tait, Queensland Police Service
Delivering impactful analysis and briefings to non-intelligence leaders
(only available to in-person delegates in Melbourne)

23/10/2022
17.00 – 19.00
24/10/2022
8.00

Registration Open
Arrival Tea & Coffee

24/10/2022
8.45

Welcome to Country
Official Opening Address
Lord Mayor Sally Capp, City of Melbourne
AIPIO Welcome on Behalf of Partners
Setting the Scene
Dr Phil Kowalick MAIPIO, AIPIO President

24/10/2022
9.40
24/10/2022
10.20
24/10/2022
10.40
24/10/2022
11.20
24/10/2022
12.00

Public-private perspectives on the Collection-Analysis Paradox
Panel to unravel a wicked problem currently being faced in our complex and uncertain world
Facilitator: Brett Peppler, Intelligent Futures Pty Ltd
Panellists: BC Tan Thomson Reuters, Gerald Berkovics Cellebrite, Mark Richards Sintelix, Brent Osmotherly Ripjar, Michael Le Huy Visual Analysis, Bernard Rix PolicingTV

24/10/2022
12.40
Lunch
Ethics
Fitzroy Ballroom
Partnerships
Sydney + Brisbane Rooms
Capability
Perth Room

Developing Your Tradecraft
Latrobe Ballroom

24/10/2022
13.40
Steve Farrer MBA CAMS CFE, Corban Consulting (UK)
Can collaboration & sharing intelligence (between unusual partners) make a significant difference in the fight against human trafficking? And the answer is…
Helen Glazebrook, Australian Government
International Best Practice in Corrections Intelligence – Winston Churchill Fellowship
Shannon Lorimer, KPMG
Insider Threat, Corporate Environment and Use of Data
24/10/2022
14.15
Linda Cavanagh, Cybermerc
Ethics & Privacy in Open Source Intelligence: A case study on the search for missing persons
Adam Riley, Cellebrite
Collaboration Across the Major Investigation Disciplines – Bridging the Gap
Benjamin Scott, Commonwealth Bank of Australia
Data leaks, investigative journalism and intelligence practice
24/10/2022
14.50
Melinda Cilento, Committee for Economic Development of Australia (CEDA)
Ethical AI – the implementation experience in Australia
Samantha Moore, Department of Environment, Land, Water and Planning
Operation Hardey: National collaboration to detect and disrupt the illegal possession and trade of Australia's native wildlife
Scott Ainslie, Sycon Security Consultants
Cyber threat Intelligence; are we applying real intelligence?
24/10/2022
15.20
24/10/2022
15.40
Jason Shepherd, TRSSI International
Ethics in Collaboration – how long a spoon?
Danielle Williams, ACIA; Crisp, a Kroll Business
What we learned from identifying 25,000 online predators in one week
John Molnar, KPMG
Intelligence and Effective Decision Making
24/10/2022
16.15
Kate Rossiter, Fair Work Ombudsman
Collaboration in Collection
*only live session / not available on-demand
Nick Lewis OBE,
Standard Chartered Bank
Why public/private partnerships work – a demonstrated outcome to an effective partnership
Emerald Sage, OSINT Combine
Circumventing Sanctions: Using OSINT to Identify Illicit Hizballah Procurement Networks
24/10/2022
16.50 – 17.00
Reflections – Ethics
Reflections – Partnerships
Reflections – Capability
25/10/2022
8.00

Registration Open
Arrival Tea & Coffee

25/10/2022
8.45
25/10/2022
9.00
25/10/2022
9.45
25/10/2022
10.20
25/10/2022
10.40

Phil Thomson, Auror, with guest Austin Craddock, Coles
Partnering for good: the power of partnership to create safer communities

25/10/2022
11.40

Intelligence Domains of Practice Panel
Will enhanced collaboration ensure intelligence increases relevance and value in each domain of practice?
Facilitator: Deputy Commissioner Tracy Linford APM, Queensland Police Service
Panellists: Major General (Ret) Ben Kite OBE Kearney, Prof. Catherine Bennett Deakin University, Mark Evans OBE New Zealand Police, Phil Thomson Auror

25/10/2022
12.40
Lunch
Ethics
Fitzroy Ballroom
Partnerships
Sydney + Brisbane Rooms
Capability
Perth Room

Developing Your Tradecraft
Latrobe Ballroom

25/10/2022
13.40
Dr Narelle Beer,
Worksafe Victoria
Healthy, Wealthy and Wise: Ensuring intelligence integrity
Tony Keane,
Australian Football League (AFL)
Seeing the Outcome of Effective Partnerships
Catherine Lee, Lethbridge Piper & Associates
Neurodiverse Safe Work – More than just noise-cancelling headphones
25/10/2022
14.15
Susan McLean, Cyber Safety Expert
Oversight and accountability: the ethical considerations in dealing with a cyberbullying complaint
Steve Farrer MBA CAMS CFE, Corban Consulting (UK)
Giving hope: how families of long term missing are finding "answers" through new ways of collaborating (a charity, a university, a police force, and a bunch of spare-time volunteers)
Meg Tapia, Accenture
Fake News: What we know about technology-enabled disinformation and what we can do about it
25/10/2022
14.50
Mark Nuttall CAMS CPP PMP, Thomson Reuters
Justified hypocrisy: the burden of decision
Stella Smith, Crime Stoppers Australia & Victoria
The role of Crime Stoppers in keeping Australia safe
A/Prof. Patrick Walsh, Charles Sturt University
Reimaging Health Security Intelligence Capabilities Post Covid-19: What Now For The Five Eyes?
25/10/2022
15.20
25/10/2022
15.50
Nicholas Cochrane-Ng, lauretta.io
Delivering on Responsible AI
John Schmidt, CANSYNTH
Making sense of today's intelligence relationships and flows… The baby with the bathwater?
Jil Blyth, Te Whakaara | The Open Source Hub, New Zealand Police
Fuelling open-source capability in government Aotearoa New Zealand
25/10/2022
16.25
Dr Corinne Unger, The University of Queensland
Changing perceptions of protests in Australia: between legitimacy and stigmatisation
Daniel Angel Damjanovic, Interpol Regional Counter Terrorism Node ESAF & Europe
INTERPOL's capabilities and role in enhancing global information exchange in counter terrorism
25/10/2022
16.55
Reflections – Ethics
Reflections – Partnerships
Reflections – Capability

Reflections – Tradecraft Skills

25/10/2022
19.00
25/10/2022
19.30 – 22.45
26/10/2022

Registration Open
Arrival Tea & Coffee

26/10/2022
8.00
26/10/2022
9.00
26/10/2022
9.05
26/10/2022
9.45
26/10/2022
10.20
26/10/2022
10.40
26/10/2022
11.20

The Great Intelligence Debate
Is there a future for public private partnerships in intelligence domains of practice?
Facilitator: Stephen Beaumont AM
Affirmative: Leneice Clifton Green Door, Mark Nuttall CAMS CPP PMP Thomson Reuters, Arran Smith, Janes
Negative: Kirsten Williams Victoria Police, Bernard Rix PolicingTV, Steve Farrer MBA CAMS CFE Corban Consulting (UK)

26/10/2022
12.40
Lunch
Ethics
Fitzroy Ballroom
Partnerships
Sydney + Brisbane Rooms
Capability
Perth Room

Developing Your Tradecraft
Latrobe Ballroom

26/10/2022
13.40
Dr William A Stoltz, National Security College
The future of foreign intelligence and covert action as tools of Australian statecraft
Vicky Kyris, ESTA (Triple Zero)
Friends and frenemies – why we need to collaborate with all partners to deliver sound policy outcomes
Dr Tim van Gelder, The Hunt Laboratory for Intelligence Research
A new framework for evaluating explanatory hypotheses
26/10/2022
14.15
Dr Eva Tsahuridu, Organisational ethics specialist
Ethical leaders for ethical cultures
Torren Dimovski and Zac Panopoulos, Victoria Police Counter Terrorism Command
Victorian Fixated Threat Assessment Centre: Collaboration within a Multidisciplinary, Preventative Initiative
Rajiv Shah,
MDR Security
Getting ready to ride the artificial intelligence wave
26/10/2022
14.50
Professor Seumas Miller,
Charles Sturt University
AI and Cognitive Warfare: The Ethical Issues
Zoe Chenier-Hinde, Auror
Work Smarter, Not Harder: Why Intelligence Practitioners Should Embrace Private Sector Partnerships
Scott Ainslie, Sycon Security Consulting,
John Schmidt, CANSYTH,
Michael Hickey MAIPIO, Victorian Building Authority
AIPIO Communities of Practice

Samantha Rush, Legion Consulting and Dorothy Seidel-Hooke, AIPIO
Finding a mentor: What you need to know

26/10/2022
15.20
26/10/2022
15.40

Intelligence International Partners Panel
Where to next for intelligence in this complex and uncertain world
Facilitator: Samantha Rush, Legion Consulting
Panellists: Danielle Williams ACIA, Dr Phil Kowalick MAIPIO AIPIO, A/Prof. Patrick Walsh IAFIE, Dr Shelagh Dorn CICA IALEIA

26/10/2022
16.15
26/10/2022
16.30

Post Conference Reception